Building 10 Technology Inc. is a US company that has developed Peeple - a WiFi-enabled door peephole camera. Peeple is an innovative product that is used by urban dwellers and any vulnerable person wary of who could be at their door.
Mongoose OS has been brought at the right time in product development to help ensure Peeple delivers an elegant, compact and easy-to-use experience to consumers.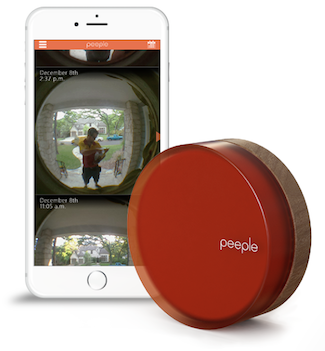 Peeple is a smart camera that attaches to existing peepholes and easily connects to home WiFi. The user can then easily identify, screen and be alerted to an outside presence via his or her smartphone app.
Mongoose OS allowed for faster, simpler development through JavaScript for the Peeple team and a high level of flexibility for their solution.
Mongoose OS was used to shorten the iteration loop creating firmware for Peeple. "By using JavaScript, we can easily change parameters on our hardware device to provide the best possible experience for our consumers with the least amount of upgrade headaches," Chris Chuter, Building 10 CEO explains on the benefits of working with Mongoose OS.
The development cycle of Mongoose OS was aligned perfectly with Peeple's firmware development plans. But what really made the difference for Building 10 is that Mongoose OS team fully understands both hardware and software: "We needed a partner that would respect the difficulties in developing hardware while providing high level software development - Mongoose OS is a rare find." - Chris Chuter, CEO.

Company
Building 10 Technology Inc.
Launched in
USA
Product
"Mongoose OS provides the holy grail of development options in which it gives us the performance and speed to be deeply integrated with the hardware, while providing ease of use and the flexibility of a high level programming language." - Chris Chuter, CEO