Dublin, April 4th, 2018 — Cesanta today announced release of Mongoose OS v2.0 under Apache License, Version 2.0.
Mongoose OS is an IoT Firmware Development Framework. It makes IoT development easy by shortening development time, lowering cost and minimising risks.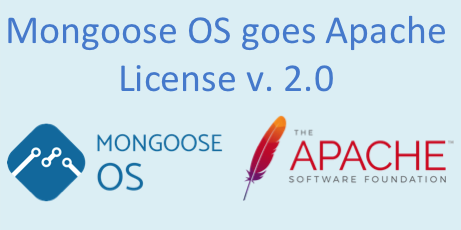 Starting from the version 2.0 Mongoose OS is available in two editions:
1) Mongoose OS Community Edition
License: Apache License Version 2.0.
Source code: Open. Also contains closed source binaries for: Mongoose Web Server Library, mJS JavaScript Engine, OTA, Cron, Shadow, CronTab.
Support: Community support via Forum and Chat.
Mongoose OS Community Edition provides access for community to use Mongoose OS freely under Apache License Version 2.0 and option to contribute to Mongoose OS development going further.
2) Mongoose OS Enterprise Edition
License: Commercial.
Benefits:
All components' source code is open.
Access to the Professional support plans.
Commercial indemnification.
Confidentiality.
Companies can upgrade to Mongoose OS Enterprise Edition license to access a full source code and additional services, such as professional grade technical support and consultancy provided by Cesanta.
More details on licensing and support can be found here.
To contact: send us a message or ask on the developer forum.