Dublin, February 15th, 2019 — Mongoose OS joins STMicroelectronics Partner Program to accelerate Customer Time-to-Market.
Mongoose OS is an IoT Firmware Development Framework. It makes IoT development easy by shortening development time, lowering cost and minimising risks.
Mongoose OS has joined STMicroelectronics Partner Program and received a 'STMicroelectronics Authorized Partner' status. Mongoose OS is now a recommended OS for STM32F4, STM32L4, STM32F7 microcontrollers to accelerate time-to-market for customers building connected IoT products.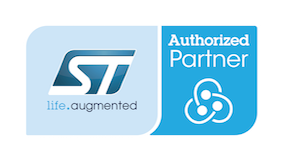 STMicroelectronics, a global semiconductor leader serving customers across the spectrum of electronics applications created the ST Partner Program to speed customer development efforts by identifying and highlighting to them companies with complementary products and services. Moreover, the program's certification process assures that all partners are vetted for quality and competence.
The video outlines how fast and easy it is to do a firmware build, network configuration and provisioning to IoT Cloud for STM32 microcontrollers with Mongoose OS:
For more information, please visit ST Partner Program directory.
To contact: send us a message or ask on the developer forum.